The origins of the Claude Berry store are inspired by my mother, Ms. Raymonde Raimbault, and her childhood and faience (earthenware) memories. Originally from Cernoy-en-Berry in France, while she had pure Berrichonne blood running through her veins, her heart always remained Giennoise. Ms. Raimbault came to America in 1955, and moved to the province of Quebec with her husband Mr. Joseph Zimmermann, a watchmaker. In 1981, a lifelong dream came true when she opened the Claude Berry store on Côte de la Fabrique street. Since that first day, Claude Berry has been the only retailer in North America that sells the Faience d'Art de Gien earthenware line, including the Pivoine, and the Renaissance.
More than anything else, Ms. Raimbault loved beauty, and that can be felt in every square inch of her store. My mother was passionate about earthenware and loved sharing her passion for it with others. Sadly, she left us on February 16th, 2008. In loving memory of my mother, I have had the great honour of pursuing her dream and running the Claude Berry store. She left me her dream, and her love for faience beauty and table art.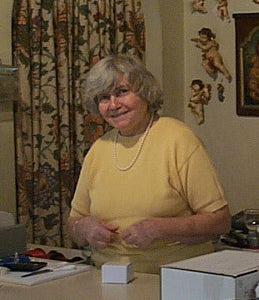 In 1999, I started the Lasteroide.com website, and specialized in Quimper and Gien faience products. Lasteroide.com was among the biggest online faience sellers, and had one of the largest inventories of Quimper and Gien faiences in North America. Lasteroide.com is now closed, but you can still find all its beautiful items on the new Claudeberry.com site, which has replaced it. It is with great pride that I combined the experience and reputation acquired both with Lasteroide.com and the Claude Berry store, which I now own, to offer our customers the new Claudeberry.com. On the new website you will find: The Faience Of Gien, The Faience of Quimper, Provences santons from Marcel Carbonel, Fouque and Didier, Crystal and Pewter from Les Posteniers Hutois, hand curved ducks from Artisanats Québeçois, Limoges porcelain boxes and reproductions of old tapestries from Maison J. Pansu. The Claude Berry website also offers a large array of cribs, all manufactured by the great craftsmen of this world, such as Lepi, Michel Laude, Marcel Carbonel and others...,
The store and Claudeberry.com offer a wide selection of magnificent items made in Quebec and elsewhere in the world. You will be impressed by the regular addition of irresistible new collections. Beauty and refinement are the heart and soul of the Claude Berry store. Welcome and thank you for visiting Claudeberry.com. If you come to Quebec City, it will be a pleasure to welcome you to the Claude Berry store. We are located at: 6 Côte de la Fabrique street in the Old City, right in front of the Notre-Dame de Québec Basilica.
See you soon,
Eric Zimmermann